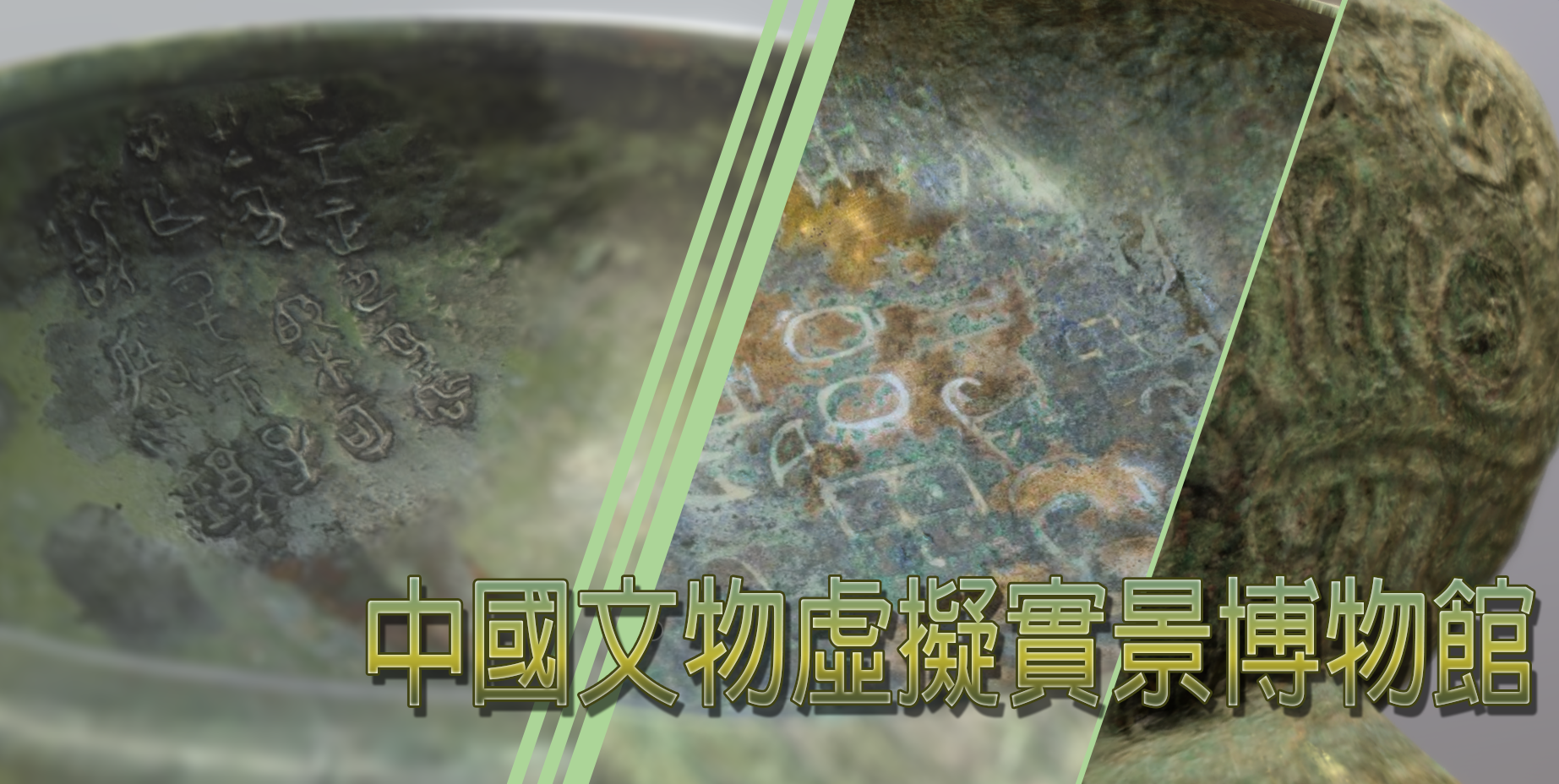 The Chinese Culture and Antique Virtual Reality Museum aims to provide a 3D interactive and
immersive platform for students and public in appreciating and understanding Chinese antiques.
With precious Inscribed Bronzes from ancient dynasties provided by private collectors, our centre
has developed them with a 3D interactive virtual antique and presented them in the VR Museum.
Visitors can experience and appreciate the stories and background of the antiques through VR head-
mounted display, Cave Automatic Virtual Environment (CAVE) or on-line.
The content of the museum facilitates teaching and research on
the Chinese culture and art. Thank you very much for Prof. Alex Cheung, and the development team
in the VR Centre. The Museum is under development and will be launched soon.
中國文化與考古虛擬現實博物館旨在提供三維式互動和為學生和公眾提供身臨其境的欣賞和理解中國文物的平台。
藉著私人收藏家提供珍貴的古代青銅器,本中心開發了一個三維式互動虛擬實境博物館。
訪客可以通過VR頭戴式顯示器、洞穴虛擬系統(CAVE)或在線體驗和欣賞文物的故事與背景。
博物館的內容有助於教學及研究中國文化藝術。
非常感謝張光裕教授和虛擬實境中心的開發團隊。 博物館正在開發之中,即將推出。
Tou Pedestal Bowl 可忌豆(戰國)
豆最早為陶製品,見於新石器時代。青銅豆出現於商代晚期,盛行於春秋戰國,在古代多用來盛放腌菜和肉醬等食物。豆也是禮器的一種,《禮記‧禮器》載:「天子之豆二十有六,諸公十有六,諸侯十有二,上大夫八,下大夫六。」可見依照身分地位,豆的數量也有不同。本豆盤自名「媵敦」,呈半圜形,侈口淺腹,兩側附有兩環耳。豆足原闕,器內有銘文二十字,屬戰國時代器。
戈古稱「勾兵」,乃商周時期最常見的兵器,由戈頭、柲、柲帽和鐏組成。戈頭的刃部稱為「援」,分作上、下刃部彎曲之處稱為「胡」,嵌入木柄與「援」相對的另一端稱為「內」,而用來穿上索帶固定於柲上之小孔稱「穿」。
本戈援體前鋒作圭頭形狀,其援上、下刃均內凹。內長方,中置長方形穿。近上闌處穿作長條狀,胡部近闌另有二豎長方形穿,下有長闡。胡部刻有銘文十五字,乃春秋時期之物。
壺盛行於商至漢代,主要用作盛酒和水,兼作禮器。壺的形制一般窄口深腹,底有圈足,多帶有蓋。有些壺器身附有兩耳,另帶有提梁。按其器形而言,一般可分作扁壺、圓壺和方壺等類別。
本器屬橢扁體寛口式無耳壺蓋,圓紐歛口,蓋前後飾外突獸面紋,器內有銘文二十一字,依其形制及銘文當為西周早期器。
---
耳杯是秦漢時期用於盛酒或盛食的器皿,形狀呈橢圓狀,兩側各有一對半月形雙耳,象鳥雀之雙翼,故又名「羽觴」。本耳杯通體施綠釉,釉面光澤,腹部飾有雲紋。漢代耳杯有用銅製和漆製,陶製品則多為明器。
---
Chinese ancient skeuomorph 漆耳杯 (羽觴)(漢)
本器原件見於1972年湖南長沙馬王堆一號漢墓,杯內塗紅漆,外髹黑漆,兩耳上以朱色繪幾何紋,內底以黑漆書「君幸食」三字。
---
Chinese Bronze Tiger Rune Artifact (虎符)
符節是古代帝王傳達命令或調兵遣將的憑證,有銅製和竹製。符節分為左右兩半,分存兩方,使用時須兩符相合,方能生效。
本器作卧虎状,昂首,尾上捲,虎身左右各刻有「甲兵之符,右才(在)皇帝,左才(在)陽陵」兩行十二字銘文,原件現藏中國國家博物館。
---
Development Team:
Prof. Alex Cheung
Dr. Eugene Wong
Prof. Ivan CHEN
Mr. Cosmo Ng
Mr. Jerry Tsang